VICE-PRESIDENT
Dr. Alphonso Simpson, Jr.
University of Wisconsin-Oshkosh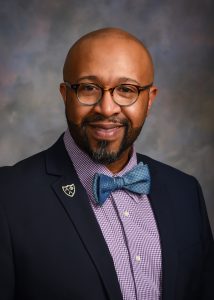 Dr. Alphonso Simpson, Jr., is the Program Director of African American Studies and an Associate Professor of Sociology at The University of Wisconsin-Oshkosh. Starting this position in the Fall of 2019, Dr. Simpson was the Chair of Liberal Arts and Sciences with an emphasis in African American Studies at Western Illinois University.  He received his Ph.D. in 2001 from the University of Wyoming, where he studied Curriculum and Instruction with an emphasis in African American Music and Music Education.  A native of Andalusia, Alabama, Dr. Simpson was introduced to the phenomenology of the Gospel Choir at his undergraduate Alma Mater – Alabama State University where he was a music major.  He carried this zeal for Gospel Music into his graduate work at the University of Missouri-Columbia where he became the director of the Legion of Black Collegians Gospel Choir. Author of 3 books, one of which is co-authored with Mr. Thomas A. Dorsey, III (the grandson of the "Father of Gospel Music" for whom he is named), he is currently working on an interactive online publication geared towards Introduction to African American Studies courses. Dr. Simpson's book "Living the Life I Sing": Gospel Music from the Dorsey Era to the Millennium was nominated for the 2018 Association for Recorded Sound Collections Awards for Excellence in Historical Recorded Sound Research.
Dr. Simpson has been involved with NCBS as a presenter since 2007 and became a Board Member through the 2010 Administrative Workshop.  Within the organization, he was awarded the Fannie Lou Hamer & Kwame Nkrumah award in 2013 and has been of service on various other committees within the organization such as the Kershaw Student Essay Committee, the Ankh Maat Wedjau Honor Society Committee, and The Keto Fellow Leadership Committee.  Dr. Simpson is married to Denver, Colorado native Mrs. Renee Simpson who is an Academic Advisor and Associate Student Services Specialist at the University of Wisconsin-Oshkosh.  They have two daughters, Endyiah and Alexyiah and they have recently re-located to Oshkosh, Wisconsin after 19-years in Macomb, Illinois. This year will mark Dr. Simpson's 2nd year as NCBS Vice-President and Conference Chair.
SECRETARY
Serie McDougal, III PhD
California State University, Los Angeles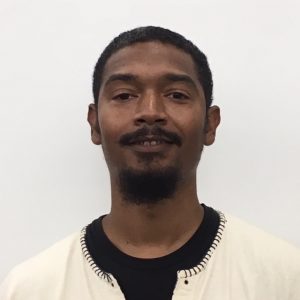 Dr. Serie McDougal, III received his B.A. in sociology from Loras College in Dubuque, Iowa. He also has an M.A. in Africana studies from the State University of New York at Albany and a Ph.D. in African American studies from Temple University in Philadelphia, PA. Dr. McDougal is the co-director of the Afrometrics Research Institute. His research interests span five basic areas: (1) Black fatherhood studies, (2) Black manhood studies, (3) Research methods and theorization in Africana studies, (4) African and African American politics, and (5) Black student engagement. In 2017, Dr. McDougal was honored by the National Association for Ethnic Studies with the Robert L. Perry Mentoring Award. He is the author of the book Research Methods in Africana Studies, which received the National Council for Black Studies' Ida B. Wells/Cheikh Anta Diop Award for Outstanding Scholarship in 2016 and the Cheikh Anta Diop Institute for Scholarly Advancement's Excellence in Scholarship Book of the Year Award in 2015. 
I am serving on the executive board because I would like to continue to learn and serve my discipline by contributing to the organization's structure, administration, and recordkeeping as NCBS secretary. I am also excited to support the president of the National Council for Black Studies more closely. Effective recordkeeping contributes to effective administration, enhances equitable communication and correspondence, and helps to ensure that everyone's contributions, ideas, expressions, and commitments are accurately represented. I have had the honor of serving on the national board since 2016, as chair of the Annual Report Committee, the Assessment Committee, and the Program Review Committee, and I would love to continue. Serving in the position of secretary allows me to help the organization run smoothly and efficiently to accomplish its ultimate aim of advancing the discipline of Black studies. 
TREASURER
Dr. Amilcar Shabazz
University of Massachusetts Amherst
A professor of history and Africana Studies in the W. E. B. Du Bois Department of Afro-American Studies since 2007, Dr. Amilcar Shabazz served as the department's seventh chair from 2007 to 2012. From 2013 to 2016, he was the Faculty Advisor to the Chancellor for Diversity and Excellence at the University of Massachusetts, and again from 2016-2018, he has was the Du Bois department's chair. His teaching keys in on the political economy of social and cultural movements, education, and public policy in the African world. His book Advancing Democracy: African Americans and the Struggle for Access and Equity in Higher Education in Texas was the winner of the T.R. Fehrenbach Book Award and other scholarly recognitions. The Forty Acres Documents, a volume he co-edited with Imari Obadele and Johnita Scott Obadele and for which he wrote the introduction, was one of the earliest scholarly works in the modern movement for reparations.
Shabazz has been a Fulbright Senior Specialist and has done work in Brazil, Ghana, Japan, Cuba, and other countries. Shabazz was selected for the 2014-15 class of the American Council on Education Fellows Program, the longest running leadership development program in the United States that focuses on identifying and preparing the next generation of senior leadership for the nation's universities. His journey in Africana Studies began as an undergraduate student at the University of Texas at Austin and has been active on the National Board for the past decade, with service as National Secretary, Vice President, and President.
PAST PRESIDENT
Dr. Georgene Bess Montgomery
Clark Atlanta University
I am an Associate Professor and Interim Chair of the Department of English and Modern Languages. Specializing in African Diasporic Literature and Traditional African Spirituality. Bess Montgomery, Ph.D. is the author of The Spirit and the Word:  A Theory of Spirituality for Africana Literary Criticism. She continues to write and publish on that topic as well as writing about her friend and poet/activist the late Mari Evans.