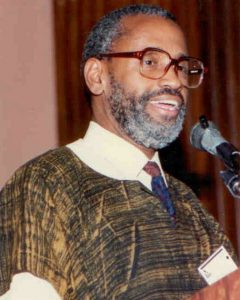 The program is named in honor of South African born Dr. C. Tsehloane Keto, a dedicated, committed, Africa-centered scholar and educator who was a powerful force in the fight for liberation and empowerment for all people of African descent.


Purpose:
The purpose of the program is to provide leadership training to the next generation of young scholars and professionals who will assume positions of responsibility in the field of Africana Studies and in the African Diaspora community.  Participants in the program will be exposed to a variety of settings where they will have the opportunity to observe, participate, examine and exercise leadership skills in a national organization.
Eligibility:
Students currently enrolled at institutions of higher education are eligible to apply.  Students will be required to:
submit a brief essay stating their interest; maximum length two pages, double spaced, 12pt font.
obtain recommendation from a current NCBS board member
provide verification of student status and standing.
All applicants must meet the following Criteria:
Must be a student member of NCBS
Prior attendance at a national conference
Junior (64 or more credits) in good academic standing
Major/minor in Black/Africana Studies
Willing to serve in student leadership role on NCBS Board of Directors
Willing to make a two year commitment to the program
Required attendance at Fall NCBS Board of Directors Meeting and the Annual Spring Conference
Mentors:
Volunteer faculty mentors will be paired with student leaders for a two year period.  Mentors will work closely with students to guide their development and serve as role models.   Mentors and students will meet, as a group, at the fall board meeting as well as the national conferences.  Faculty members will work closely with individual mentors throughout the year.
Support:
Funding, provided by NCBS, will support up to four students annually – $500 per student. Students will be required to attend the fall board meeting and the annual conferences and will be encouraged to solicit support from their home institutions.
Application Deadline: Monday, January 15, 2023
Email a PDF of your essay application to ketofellows@ncbsonline.org