EXECUTIVE DIRECTOR
Dr. Alicia Fontnette
University of Delaware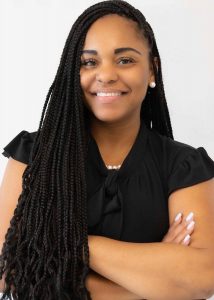 Dr. Alicia Fontnette is an assistant professor of Africana Studies at the University of Delaware and a scholar-activist who is dedicated to the freedom and liberation of Black and Brown people throughout the Diaspora. She believes that her responsibility is to help students encounter breakthroughs in thinking and acting in the interest of social justice. 
Dr. Fontnette's pedagogical practice is rooted in the decolonization and humanization of all her students. In 2012, Dr. Fontnette became a board member for the National Council for Black Studies and currently serves as its membership chairperson and executive director. From 2012-2016, Dr. Fontnette held positions in both the African Diaspora and the World Department and English Department at Spelman College. However, it was during her tenure in K-12 that Dr. Fontnette's instructional practices developed into an art that ensured student success. Students seeing themselves in the curriculum, being a part of the curriculum building process, having a space for their voices, and the grounding of classes in discourse and reflection has proven to be models that Dr. Fontnette believes are a necessity for learning, not only in K-12, but also the collegiate level. In 2021, Dr. Fontnette created Transformative Educational Coaching, L.L.C. to assist college professors with transitioning from a lecture style classroom to one of student dialogue and discourse.  
​Dr. Fontnette's research interests include Black women and their development in America, the impact of Hurricane Katrina on Black women in New Orleans, and the use of Black women's voices in literature as tools for liberation. More recently, Dr. Fontnette's research endeavors have focused on freedom and liberatory practices in K-12 education in America and the decolonization of oppressive practices in the classroom.  
afontnet@udel.edu
University of Delaware Department of Africana Studies
ADMINISTRATIVE ASSISTANT III
TBD
University of Delaware
Job no: 500336
College / VP Area: College of Arts & Sciences
Work type: Staff
Location: Newark/Hybrid
Categories: Administrative Support, Full Time
Pay Grade: 27N
Context of the Job:  The Administrative Assistant III will work with the National Council for Black Studies (NCBS) to increase the membership base and handle all services to member institutions. This position will also work with the Department of Africana Studies as determined by the National Director. The position also requires travel to the annual conference.