Check here frequently for opportunities to submit papers.
If you have a Call for Papers opportunity and would like it shared on our website email information to info@ncbsonline.org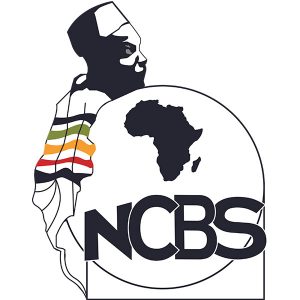 The National Council for Black Studies
44th Annual Conference
Call for Papers:  "Fields and Functions of Africana Studies:  Mapping Terrains of Research, Teaching and Resistance"
The National Council for Black Studies for its 44th Annual Conference is accepting abstracts for panel sessions, individual paper presentations, round-table discussions, poster presentations, and town hall meetings that explore the fields and functions of Africana Studies and its continuous development and advancement.
Submit a 150-250 word abstract for a panel to submissions@ncbsonline.org. Each panelist will need to submit their panel subject and abstract. The panel chair submits the topic and panel participants. Individual paper and poster presentations are also welcome. For roundtable discussions submit a 150-250 word abstract that explores the discussion topic.
First consideration and expedited responses to abstracts given to NCBS members, so you are encouraged to join, click here.  You must be a registered attendee of the conference in order to present.  Click here, to register.
LEARN MORE
Submission Deadline: Friday, January 17th, 2020.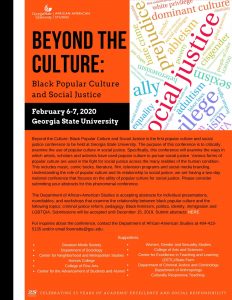 African-American Studies Department of Georgia State University
Beyond the Culture:  Black Popular Culture and Social Justice Conference Invites Abstracts 
The Department of African-American Studies is accepting abstracts for individual presentations, roundtables, and workshops that examine the relationship between black popular culture and the following topics: criminal justice reform, pedagogy, Black feminism, politics, identity, immigration and LGBTQIA.  Beyond the Culture: Black Popular Culture and Social Justice is the first popular culture and social justice conference to be held at Georgia State University February 6-7, 2020.
READ MORE
Submission Deadline:  December 15, 2019