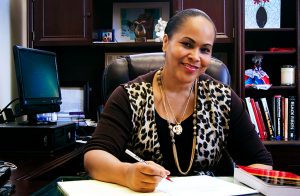 Patricia Hilliard-Nunn, whose research brought to light the ugly history of racism and lynching in Alachua County and who advocated for truth and reconciliation over that past, has died.
Hilliard-Nunn was known for her calm presence as much as for her relentless exploration of racial history, was a senior lecturer at the University of Florida. She also spoke at schools, churches, civic groups, historic events and other activities.
"I've cried so much I have no more tears left," Alachua County NAACP President Evelyn Foxx said Wednesday. "It's a sad day for our community. Tricia was such a jewel. Everybody loved her and all the wisdom she had."
Hilliard-Nunn's most well-known research is on the Newberry Six, the lynching of a group of men and women on Aug. 18, 1916, over a supposedly stolen hog.  Lynched were James Dennis, Bert and Mary Dennis, Stella Young, the Rev. Josh Baskin and Andrew McHenry.
With Hilliard-Nunn's help, Newberry Mayor Jordan Marlowe and residents launched the most extensive truth and reconciliation effort in the county in conjunction with the Equal Justice Initiative.
"It's such a tragedy. Her work to help preserve, uncover and educate folks about Newberry's racial history — we wouldn't be where we are without her life's work," Marlowe said. "She's an active member of Newberry's committee, she was on the review committee for the curriculum unit we are about to pilot with the school board to teach the Newberry lynchings. Trying to find somebody to fill her shoes is just not possible."
Part of the truth and reconciliation process was to collect soil under an oak at Lynch Hammock, the site of the killings, to take to the National Memorial for Peace and Justice in Montgomery, Alabama. The event has been postponed because of COVID-19.
Hilliard-Nunn, typical of her simple but meaningful way of explaining complex issues, spoke to The Sun of the importance of the action.  "The soil collection can put those spirits to sleep,"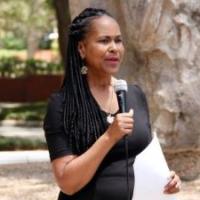 Hilliard-Nunn said. "It's a way we can stand with people throughout this nation and say, 'This happened, it's wrong, we're not trying to live in the past but at this point we want to move forward and make sure it never happens again.'"
Cynthia Chestnut, a political and community leader who often worked on projects with Hilliard-Nunn, said her way of communicating was part of what made her so effective.  "She was an historian, a great orator and was a great mentor to young people," Chestnut said. "And she was a very kind and compassionate servant to senior citizens. What a loss."
Hilliard-Nunn earned a bachelor's degree in mass media from Hampton University, a master's in film production from Howard University and a doctorate in mass communication from Florida State University, according to her UF resume.  She was a senior lecturer in African American studies. She was a member of Delta Sigma Theta Sorority Inc., The Links Inc., American Association of University of Women.  She is survived by husband Kenneth Nunn, a UF law professor; daughters, Foluke Nunn and Dayo Nunn; mother, Patsy Jo Hilliard; sister, Robi Hill Herron; and brother, Hakim Hilliard.
In addition to her work at UF, Hilliard-Nunn owned Makare Publishing Company and was an independent media producer. She was also an artist and dancer.
Memorial was published in the Gainsville Sun by Cindy Swirko cindy.swirko@gvillesun.com