Thinking in Public: Faith, Secular Humanism, and Development in Jacques Roumain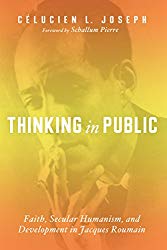 Author:  Celucien L. Joseph
Thinking in Public provides a probing and provocative meditation on the intellectual life and legacy of Jacques Roumain. As a work of intellectual history, the book investigates the intersections of religious ideas, secular humanism, and development within the framework of Roumain's public intellectualism and cultural criticism embodied in his prolific writings.
The book provides a reconceptualization of Roumain's intellectual itineraries against the backdrop of two public spheres: a national public sphere (Haiti) and a transnational public sphere (the global world). Second, it remaps and reframes Roumain's intellectual circuits and his critical engagements within a wide range of intellectual traditions, cultural and political movements, and philosophical and religious systems. Third, the book argues that Roumain's perspective on religion, social development, and his critiques of religion in general and of institutionalized Christianity in particular were substantially influenced by a Marxist philosophy of history and secular humanist approach to faith and human progress.
Finally, the book advances the idea that Roumain's concept of development is linked to the theories of democratic socialism, relational anthropology, distributive justice, and communitarianism. Ultimately, this work demonstrates that Roumain believed that only through effective human solidarity and collaboration can serious social transformation and real human emancipation take place.
Publisher: Pickwick Publications, an Imprint of Wipf and Stock Publishers (May 25, 2017)
Publication Date: May 25, 2017
Language: English
ASIN: B072C62G7W
Purchase from Amazon, Support NCBS