CONFERENCE THEME:
"Our Sisters Spoke Up: Women, Gender and Sexuality
in Africana Studies" 
Panel Proposals in Honor of Dr. Bertha Maxwell Roddey,
Co-founder and First President of the National Council for Black Studies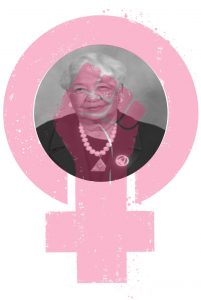 #BlackLivesMatter, #MeToo, #CiteBlackWomen,
Calling-In, Intersectionality
These are just a few of the many concepts, slogans, hashtags and moving ideas that have come to the fore recently through the leadership in thought and practice of women like our own Queen Mother Bertha Maxwell-Roddey. The NCBS Conference Committee calls upon all scholars and students in the discipline of Africana/Black Studies to reflect on issues of gender, sexuality and the status of women in the world. It is time to recognize the political, economic and cultural labor that women contribute to society that is not valued and quoted as it should be and far too frequently performed without equitable compensation. The winds of change are sweeping aside entrenched systems of patriarchy and sexism and a new world is rising.
#NCBS2022, our 46th annual conference was made possible due to the strident efforts of Dr. Maxwell-Roddey who helped found NCBS in 1975. Due to the ongoing Covid-19 pandemic we will be a virtual again, but this year offering multiple sessions of professional members as well as student sessions.
A limited number of sessions will be featured over the 24-26 of February 2022 along with a powerful plenary session. We call on all our members and prospective members to submit whole panel session proposals for peer-review by our conference committee. Session proposals not accepted this year will be given feedback and can be reviewed again for our in-person conference in March of 2023 scheduled to take place in Florida!
The deadline for submission of panel sessions is
Wednesday, December 15, 2021.
Please send a full proposal* with:
A title and abstract for the panel session
Titles and names of presenters in the session. Each presenter should be identified by their institutional affiliation or other identifying information.
Title and name of chair/facilitator, if you are providing your own
Sessions by professional members should be indicated as such and those by students (whether graduate or undergraduate) should likewise be so indicated as such.
Indicate if you can provide your own Zoom WEBINAR meeting ID with capacity for 500+ attendees.
Proposals with all presenters holding current NCBS membership status will be given first consideration. Renew or join now.
The conference committee will select a chair/facilitator for each accepted panel unless a chair/facilitator is named and identified as such by the organizer of the submitted panel. Proposals are encouraged to relate to this year's theme, however proposals of significant interest to the discipline of Africana/Black Studies will also be considered.
Please send completed proposals to conferencechair@ncbsonline.org.
* Incomplete proposals will not be considered.